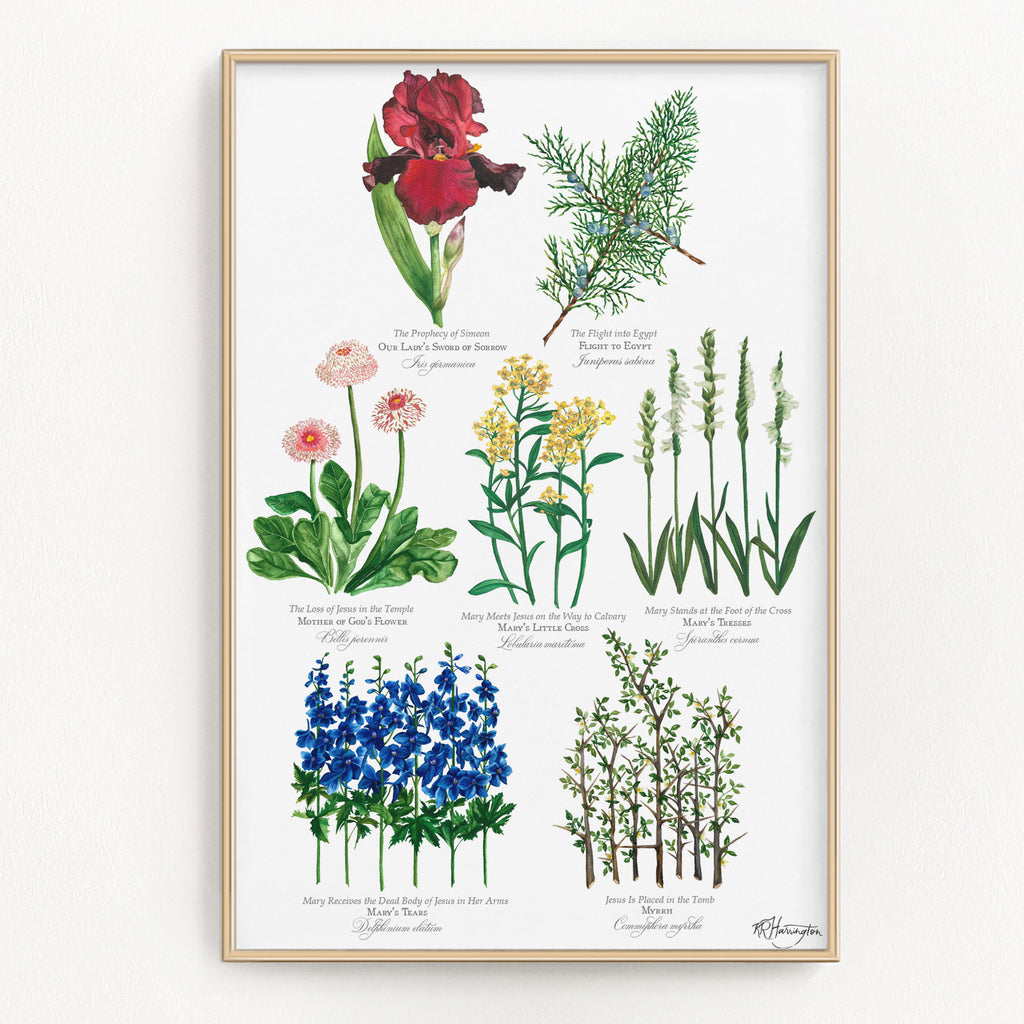 BOTANICAL SEVEN SORROWS OF MARY POSTER - COMPLETE

This is a compilation of seven original watercolor paintings by Katrina Harrington.

The Seven Sorrow of Our Lady are as follows:

1. The Prophecy of Simeon represented by Our Lady's Sword of Sorrow (the Iris). Simeon foretold that, "A sword of sorrow will pierce your heart because of the suffering that shall befall your child."
2. The Flight into Egypt represented by juniper sprigs. Legend has it that when the Holy Family was fleeing King Herod, a juniper bush covered them to give them shelter as soldiers pursued them.
3. The Loss of Jesus in the Temple is represented by Mother of God's Flower (an English daisy) from the legend that when the child Jesus' got cut, some blood drops fell on the white flowers and some of the petals turned red. When seeing them, Mary pondered in her heart the prophecy of her child's sacrifice. I chose this for the Loss in the Temple for Our Lady's worry about her child.
4. The Meeting of Jesus and Mary on the Way of the Cross represented by Mary's Little Cross (alyssum) as the flowers' cross shape reminds one of Our Lady's embracing of her son's cross.
5. Mary at the Foot of the Cross symbolized by Our Lady's Tresses from the legend that Mary tore her hair in agony as she watched her son suffer.
6. For Mary Receives the Dead Body of Jesus in Her Arms, I used Mary's Tears (delphinium, also known as larkspur) to show her mother's sorrow.
7. For the Burial of Jesus, I used commiflora myrrha which is the tree used to make myrrh which was used to prepare Jesus' body.

Posters in the botanical art section of Rose Harrington are only printed on printed on neutral-white, archival matte paper (230 gsm). This paper matches Rose Harrington's commitment to deliver the best possible product. 

Frames and props not included. 

All products at Rose Harrington are made in the USA. These are printed to order so processing is 5 to 10 business days in addition to shipping time.