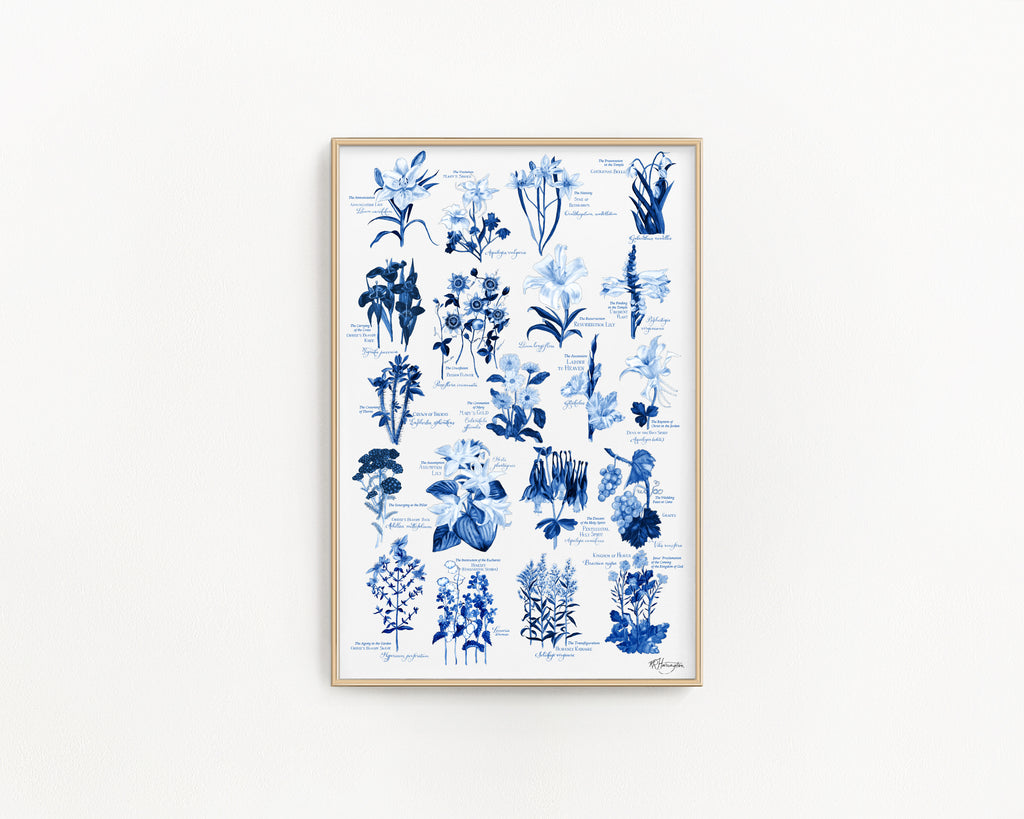 BOTANICAL ROSARY POSTER IN BLUE - COMPLETE

This is a compilation of twenty original watercolor paintings by Katrina Harrington accompanied by her calligraphy.

The Joyful Mysteries are as follows:

I) The Annunciation, The Annunciation Lily, Lilium candidum

II) The Visitation, Mary's Shoes, Aquilegia, vulgaris

III) The Nativity, Star of Bethlehem, Ornithogalum umbellatum

IV) The Presentation of the Lord, Candlemas Bells, Galanthus nivallis

V) The Finding in the Temple, Obedient Plant, Psychotegia virginiana

The Luminous Mysteries are as follows:

I) The Baptism of Christ in the Jordan, Dove of the Holy Spirit, Aquilegia (white)

II) The Wedding Feast at Cana, Grapes, Vitis vinifera

III) Jesus' Proclamation of the Coming of the Kingdom of God, Kingdom of Heaven, Brassica nigra

IV) The Transfiguration, Heavenly Radiance, Solidago virgaure

V) The Institution of the Eucharist, Honesty (Eucharistic symbol), Lunaria annua

The Sorrowful Mysteries are as follows:

I) The Agony in the Garden, Christ's Bloody Sweat, Hypericum perforatum

II) The Scourging at the Pillar, Christ's Bloody Back, Achillea millefolium

III) The Crowing of the Thorns, Crown of the Thorns, Euphorbia splendens

IV) The Carrying of the Cross, Christ's Bloody Knee, Tigridia pavonia

V) The Crucifixion, Passion Flower, Passiflora incarnata

The Glorious Mysteries are as follows:

I) The Resurrection, Resurrection Lily, Lilium longiflora

II) The Ascension, Ladder to Heaven, Gladiolus

III) The Descent of the Holy Spirit, Pentecostal Holy Spirit, Aquilegia canadensis

IV) The Assumption, Assumption Lily, Hosta plantaginia

V) The Coronation of Mary, Mary's Gold, Calendula officinalis

Posters in the botanical art section of Rose Harrington are only printed on printed on neutral-white, archival matte paper (230 gsm). This paper matches Rose Harrington's commitment to deliver the best possible product. 

Frames and props not included. 

All products at Rose Harrington are made in the USA. These are printed to order so processing is 5 to 10 business days in addition to shipping time.